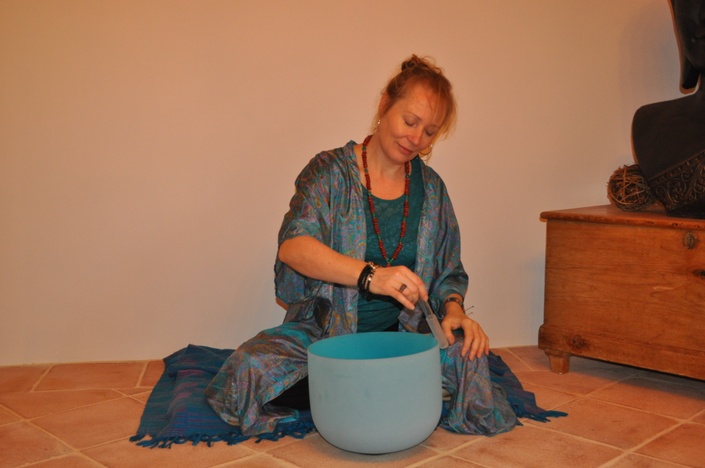 100 Hours Certified Healing Yoga Teacher Training
Healing Trauma Healing Chronic Pain
Enroll in Course
Daily stress is having a huge impact on our body, mind, and soul. It is estimated that 70 percent of our lives are spent in a heightened stress state. Creating hard wiring in the brain that results in long-term chronic health problems. Though we long to be at ease, happy, and enjoy every moment of life, we tend to keep going, because we don't know how else to keep up with the lifestyle that we have created for ourselves.
This certified virtual online and live zoom Healing Yoga Teacher Training is designed to create space for you to start to become aware of this false and stressful reality that we have created and learn how to return to our natural divine state of being, and in turn, offer this knowledge to your students, to help them recognize trapped trauma and release chronic pain. To rejuvenate the body, clear the mind, open up the heart and allow energetic healing to take place.
This online and live mentoring healing yoga teacher training option allows you to work from the comfort of your own home, and allow you first to make the changes in your life by focusing deeper into how the spiritual teachings of yoga, offers us the opportunity to connect completely with our true Nature. Finding that Universal Light within us, and connecting on all levels, physically, emotionally, and energetically.
In-depth anatomy and physiology to help you fully understand how our body works on a physical level, to maintain and expand flexibility and mobility, and rejuvenate the body.

One-to-one personal feedback on all marked assignments.

Personalized extension questions and weekly group Zoom sessions to ensure that you have fully understood the teachings.

Practice mindfulness in daily life, create peace in our minds.

Learn that the body heals also on an energetic level, looking at the Daoist wisdom of the meridian chi flow in our bodies, harmonise body, mind and soul

Bring gentle somatic flowing asanas into our healing routine to free the body from stagnant energy build-up.

Fully immerse yourself in the vital role of meditation to break self-sabotaging subconscious beliefs that have kept you stuck from achieving happiness and abundance in your life.

Fully understand the role of prana or chi in our healing journey.

Learn how to theme and sequence a class to create a blissful healing experience.

How to confidently and professionally work with people in chronic pain.

Understand the effects of trauma on the body.
Help to empower students to take control of their healing journey.
Defining Pain and Injury and how we help our students move past resistence.
Understand the relationship between trauma and spirituality.
Your Instructor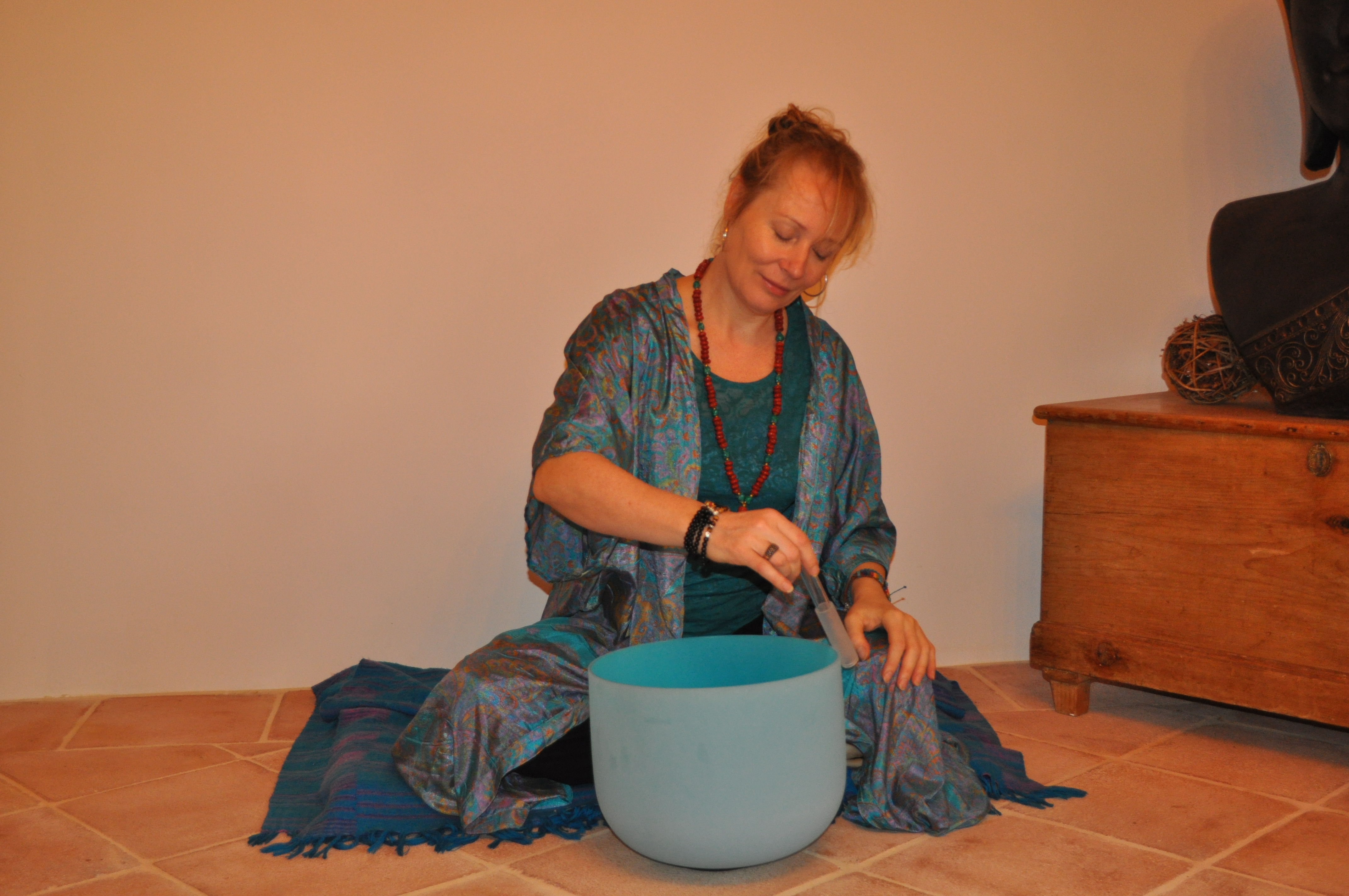 Tandy Pengelly : Yoga Elder, Spiritual Tantra Coach, Shamanic Practitioner, Reiki Master, Intuitive Artist and Author of Breaking the Attention to Pain.
My journey into yoga started over 20 years ago, when I discovered the healing power of Yoga after a serious accident. This journey has taken me all over the world, where I have undergone intensive training from amazing and talented teachers, including Vanessa Rudge and Michael Daly from Being Yoga Australia, Sharon Gannon and David Life from Jivamukta Yoga, Ayurveda specialist Dr David Frawley, and Yin Yoga with Becky Khalil, Tantra with Alexis Alacala, and Gretchen Faust, which has resulted in me attaining the status of Yoga Elder with the International Independent Yoga Network, which is their highest level of Yoga Instructor in both Yang and Yin styles of yoga, and represents my level of training and experience in teaching.
But my journey into energy medicine and healing happened many years before. As a Reiki Master and Earth Empath I work not just on a physical level, but also on an emotional, spiritual and energetic level too. Through my Shamanic training with Kimba Bridgeman at the Shaman College, and Reiki training under the Usui Shiki Ryoho, I connect on a deeper level with the healing Universal Energy.
I have studied for 21 years Buddhist thought and practice under the Mahayana system of Tibetan Buddhism and had the honour to be initiated by the His Holiness the 14th Dalai Lama, in 2016.
But Yoga is a life journey, I am always developing my knowledge and understanding of this life path. I have always been committed to evolving my knowledge and has also continued studying and deepening my knowledge by recently studying Yogic Science with Sadhguru from Inner Engineering, and Yoga Philosophy with Seth Powell to deepen by knowledge of the ancient teachings in Yogic Science.
I also have a degree in Psychology, a diploma in Nutritional Medicine, Higher National Diploma in Massage, Diploma in Mind and Body Nutrition performance, Diploma in Vegan and Raw Nutrition, Spiritual Life Coach Certification and Business Coaching Certification.
Over the years I have helped many people regain movement and over coming deep rooted chronic pain, and throughout this time I began noticing more and more similar behavioral traits and thought patterns in my students suffering from chronic pain. Which led me to research how our thought patterns, beliefs and words affected our ability to deal with, and heal chronic pain. These life changing discoveries led me to write my latest book Breaking the Attention of Pain.
I am also a passionate intuitive artist, and know that yoga unlocks our creative potential. The specific benefits of yoga on creativity and self-expression are many. The expanded consciousness, insights and elevated perspective gained through being on the mat, have a profound effect on your creative expression.
Course Curriculum
Certified Healing Yoga Healing Trauma: Week 1
Available in days
days after you enroll
Week 2
Available in days
days after you enroll
Week 3
Available in days
days after you enroll
Frequently Asked Questions
When does the course start and finish?
I run this training twice a year and the next enrollment date is 24th January 2022. This is an interactive mentoring training with weekly zoom sessions and individually marked assignments.
How long do I have access to the course?
This is a 4-month interactive mentoring training, although you will have to assess to the course material for 6 months. If you need to extend after the 6 month period a small administration fee will be required.
What if I am unhappy with the course?
We would never want you to be unhappy! If you are unsatisfied with your purchase, contact us in the first 14 days and we will give you a full refund.
What are the course prerequisites?
This is a Yoga Teacher Training course so it is expected that you have at least 2 years of personal yoga practice. It is not designed for beginners. It is also perfect for Yoga Teachers that would like to add to their skill base and follow professional development in the field of Healing Chronic Pain and Trauma in the body. If in doubt please contact me prior to enrolling at
[email protected]